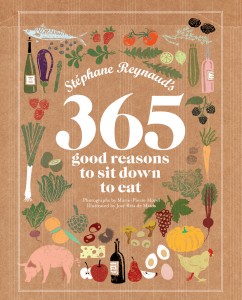 For the first time since my discovery of the Interwebs, I've purchased a cookbook. And I have to say, it's really lovely. Not only is it filled with amazing seasonal recipes, it's also really beautiful with great illustrations that remind me of Quentin Blake's style, and tasty food photography. Check the link for a sample recipe and some pictures. Recommended!
Stéphane Reynaud's 365 Good Reasons to Sit Down to Eat
P.S.: Photography by Marie-Pierre Morel, illustrations by José Reis de Matos, both brilliant artists.