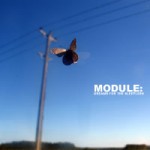 A person going by the moniker of Module and hailing from Wellington, New Zealand, has been so kind to put this excellent 73 minute ambient track online for all to enjoy. It's called "Dreams For The Sleepless". In his own words:
"A 73 Min 1 track ambient CD This is music for dreaming. Nothing more than a rich swirling ambient sonic textural soundscape, a electronic lullaby to drift away to."
It's nice and relaxing music indeed and you should go download it now.
More about Module: module.co.nz, myspace.com/modulelikesbeats