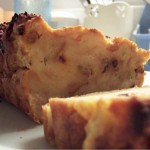 Broodpudding – literally bread pudding – is 3-4-5 day old bread broken into bits, covered in milk, brown sugar, raisins and eggs and made into a loaf again. A tasty, moist, sweet loaf. And super easy to make. I couldn't find any recipes in English, so I decided to translate one from broodpudding.be, which seems to be a whole website dedicated to this delicious idea.

It's a lenient recipe, so feel free to experiment I'd say.
Ingredients:
300g old bread (I prefer white bread with lots of crust, but anything goes)
500ml milk or 450ml milk and 50ml cream if you like it creamy
200g sugar (I prefer dark brown raw sugar – in any case, unrefined)
5 eggs
50-75g raisins or sultanas (depending on your taste)
1tsp cinnamon (or more…)
2tsp vanilla sugar (or more…)
Preparation:
Preheat oven to 200C. Mix the milk with the sugar. Break up bread into a large bowl and pour the milk over the bread. Mix with your hands until it's… mixed. Doesn't have to be homogenous, just squeeze it a few times. Add raisins, cinnamon, vanilla sugar and beaten eggs. It'll be sludgy – you want it that way. Pour mixture into an oiled loaf pan and pop into the oven for 45 minutes.
When I did this last I put and extra 2tsp of vanilla sugar on the top and it made it nice and crispy. It did mean I had to cover the loaf with tin foil for the last 10 minutes to prevent it from going too dark.
Also, if you can't get your hands on vanilla sugar, vanilla extract works just fine of course.
Some popular variations include adding apple slices – none at the top or they'll burn – or covering the entire loaf, after it's fully cooked, with a mixture of 1 egg white, 150g icing sugar and a bar of milk chocolate. I prefer to stick to the plain vanilla version though.
Nom nom nom…